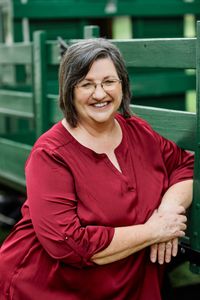 Born: November 25 in Joplin MO
Anniversary: August 17, 1974
Salvation: at the age of 13
Position: Lead
Hobby:   I am currently learning to can, especially enjoy canning meat. and putting together recipes to use that meat. Lately I have been experimenting with dehydrating.   God has given me a desire to  encourage young women to be keepers at home which I believe is a  very important calling today. I have recently became a pampered chef consultant which I think makes keeping home fun.  I like to entertain and have special events in our home
Family: Husband: Jim, Children: Jeremiah, Jedidiah, Rebekah, Rachel, Ruth Ann,
Jonathan, Grandchildren: Rose Anna, Micah, AJ, Josiah, Hadassah, Dorcas, Abraham, Hezekiah,
Enoch, Moriah, James, Ezekiel, Bashan, Jabez, and Malachi, Alannah, Damaris, Haley, Thomas, Samuel, Asher, Silas, Kaitlyn, Noah, and Bryan jr and great grandson Alan Edward
 
What do you like about traveling? I love to travel and see the many places around this country; I also love to meet new people, and what better way than sharing the gospel in music .
What do you dislike about traveling? being away from married children and grandchildren

FAVORITES
Place to eat: Raising Canes
Groups: Rochesters, New Covenant, and the Blackwood Brothers Qt, Avenue
Song: Does my worship bring you Praise; Written by Jessica Reynolds 
Snacks: chocolate, cappuccino
Food: Fried Chicken
Season: Fall
Color: Green
Scripture: My Life Verse: Psalm 25:4, 5
Who has inspired you in your life? My Husband, Jim and My Parents.  There have been many people who have encouraged me, many pastors and wives, many missionaries and wives, and many others . I have been blessed