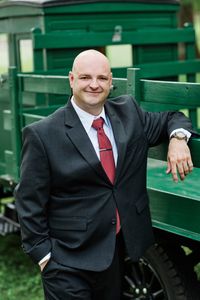 Born: November 29 in Kansas City, MO
Salvation: at the age of 5yrs
Position: Bass and tenor
Hobby: grilling, skeet shooting, he also likes to do small engine repairs. He enjoys talking to people and showing his 1926 Model T Truck.  Recently we have involved with Macedonia Mission builders which is another one of his passions.  
Family: Dad: Jim, Mom: Ruby, Bros & Sis: Jedidiah, Rebekah, Rachel, Ruth Ann,
Jonathan, Nieces and Nephews: Rose Anna, Micah, AJ, Josiah, Hadassah, Abraham,
Hezekiah, and Dorcas, Enoch, Moriah, James, Ezekiel, Bashan, Malachi, Jabez, Allannah, Damaris, Haley,Thomas, Asher, Samuel , Silas, Kaitlyn, Noah, Bryan jr and  Alan Edward
What do you like about traveling? Meeting new people
What do you dislike about traveling? being away from brother and sisters
FAVORITES
Place to eat: KFC
Group: Blackwood Brothers QT
Song: I Just Started Living
Snack: whale crackers, Sprite
Food: fried chicken
Season: Spring
Color: Blue
Scripture: Proverbs 30:5
Who has inspired you in your life? My Parents